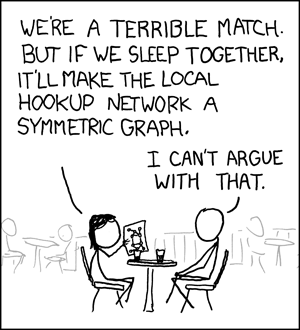 i told him that while the content was not appropriate to send to a teacher, i did teach them mathematical pick up lines last year, and i really appreciated the gesture.
it was also the only thing that got me to stop crying.
one of my students tried to kill herself over the weekend. it's what's called an "earnest attempt"--no threats, no signs, just tried to end it.*
the stepsister of another one of my students ran away and got half way across the state this weekend before she ended up in a hospital. horrible enough. she ran away because my student has been sexually assaulting her on a regular basis for over a year.
i do not know how to deal with these things.
*interestingly, while this was happening, down to the hour, i was having a dream that my above-mentioned favorite student had died. i spent the entire dream crying and mourning him. huh.
my favorite student (from last year) just sent me this: